The shaded one
Although ivy is not a tree in a commonly understood sense, it is the only member of its family of climbers (aralia) found in northern woodlands to carpet ground, trees, rocks or walls.
Growing up to a height of seventy feet, it does not strangle its host tree (contrary, again, to the common understanding), however ivy does frequently block out the light from reaching its host tree. Able to live with minimal light, ivy may completely carpet ground in woodland, yet it does well on various soils or even simply minerals, such as old walls, and can live for hundreds of years
Two types for two needs
With tiny rootlets that take hold of a tree surface, ivy shoots begin their climb. These shoots have shiny, dark-green leaves, three or five-lobed, with white veins. Once established in a shady place, a different form of ivy leaf and shoot appear, one that does not require to climb and which grows instead the heart shaped, pointed leaves which can be effective to the lower part of the human body, such as the spleen or on corns.
Birds only
These larger leaves produce bunches of yellow green flowers which turn to black berries in autumn, with three to five seeds to each berry. Although eaten by birds, who distribute the seed, the berries are inedible to humans (and horses). aralia family: araliaceae ivy (hedera helix)
Practical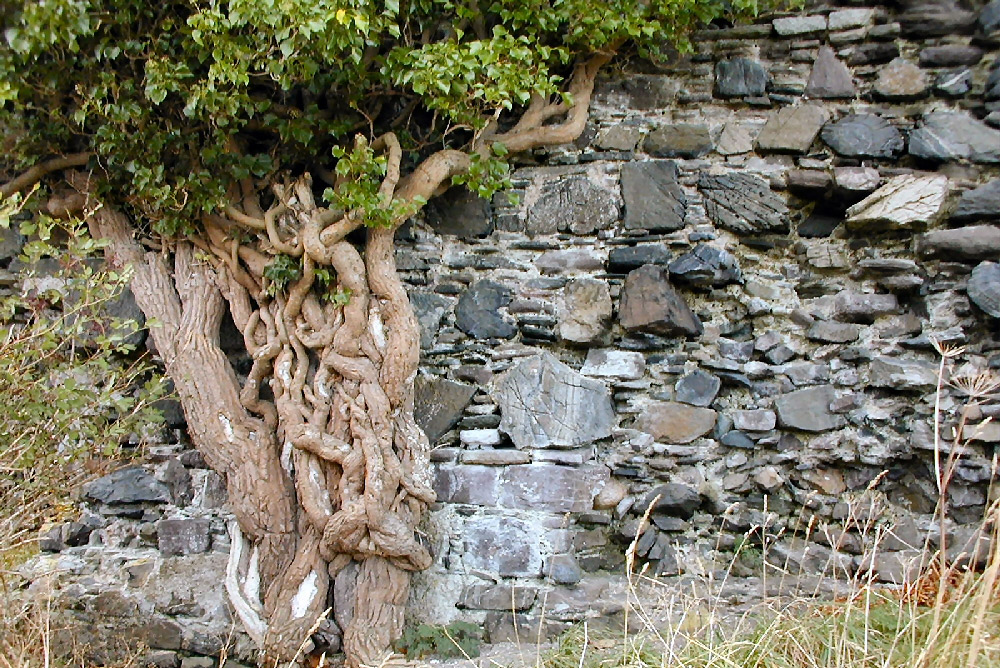 Bronchial remedy
If used in decoctions, ivy leaves can cure ear and eye problems, loosening mucus in sinusitis and treat inflammatory bronchial conditions and chronic bronchitis.
From early (Neolithic) times the leaves were used for animals, hence an old german name of ep-heu, (heu being hay). The black ivy berries are used for wine in Europe but the English variety are generally poisonous